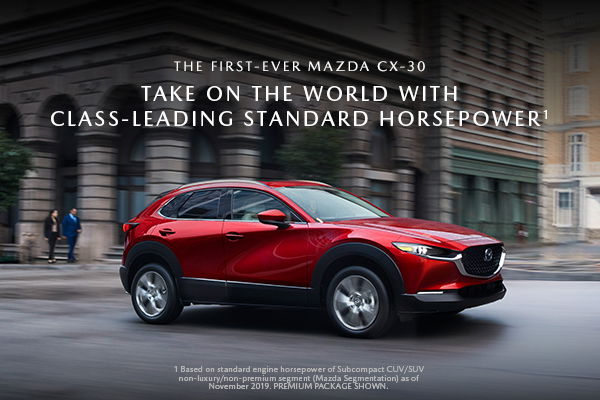 Have you heard about the all new 2020 Mazda CX-30 yet? It's Mazda's newest addition to an already stellar line-up of Suvs and Crossovers. We believe as a Mazda dealer that Mazda now has the very best vehicle line-up they've ever had from a look, performance, and even price standpoint.
The Mazda CX-30 is coming into the line-up size wise between the subcompact Mazda CX-3 and the compact Mazda CX-5 and has a base price of $23000. The Mazda designers did a fantastic job of giving it a more forward-canted rear window and a black plastic body cladding to help set it apart from the 2020 Mazda CX-3 and Mazda CX-5. The Mazda CX-30 also comes standard with impressive technology like connectivity and driver-assistance features. It's equipped with the same spirited and responsive engine as the recently redesigned Mazda3.
Basic pricing for the all new 2020 Mazda CX-30 starts at :
BASE : $23,000
SELECT: $25,000
PREFERRED: $27,300
PREMIUM: $29,300
The Select trim level might be the best way to go for some folks as you get some great features for not too much additional money compared to the Base level trim. For instance the Select comes with Apple CarPlay and Android Auto integration, blind-spot monitoring with rear cross-traffic alert, a leather-wrapped steering wheel and shift knob, and keyless entry. All of the trim levels have a standard 2.5-liter engine and are also available with all-wheel drive for about $1,400 more.
Performance:
The 2.5 liter four-cylinder engine in all of the Mazda CX-30's has 186 horsepower/ 186 lb-ft of torque. A six-speed automatic is the only transmission available. If you like the quick Mazda3 Hatchback you'll think the Mazda CX-30 is just as agile, energetic, and as fun to drive. The fuel economy EPA- estimated MPG (city / highway) is 25/33 for the FWD model and 24/31 for the AWD.
Look for the continuation of this article where we'll discuss the Infotainment and Connectivity, Safety and driver assist features and the standard warranty information! If you want to test drive one just stop by Nucar Mazda and we'll get you behind the wheel and let the Mazda CX-30 show you what it can do for you!